Another dual band radio: Ailunce HD1 DMR Dual Band.

Following the rumor of a TYT MD-2017 dual-band DMR handheld radio
, we now have an announcement of another dual band radio. This time it comes from Ailunce.
To tell you the truth, I was not familiar with the brand until today. It is a brand owned by Retevis
and this HD1 DMR handheld seems to be the first model in their lineup.
For now, all we have is a rendering of the radio and specifications. I am not classifying this as a rumor though, since it seems to be an announcement on Ailunce's facebook page:
Here are the specifications: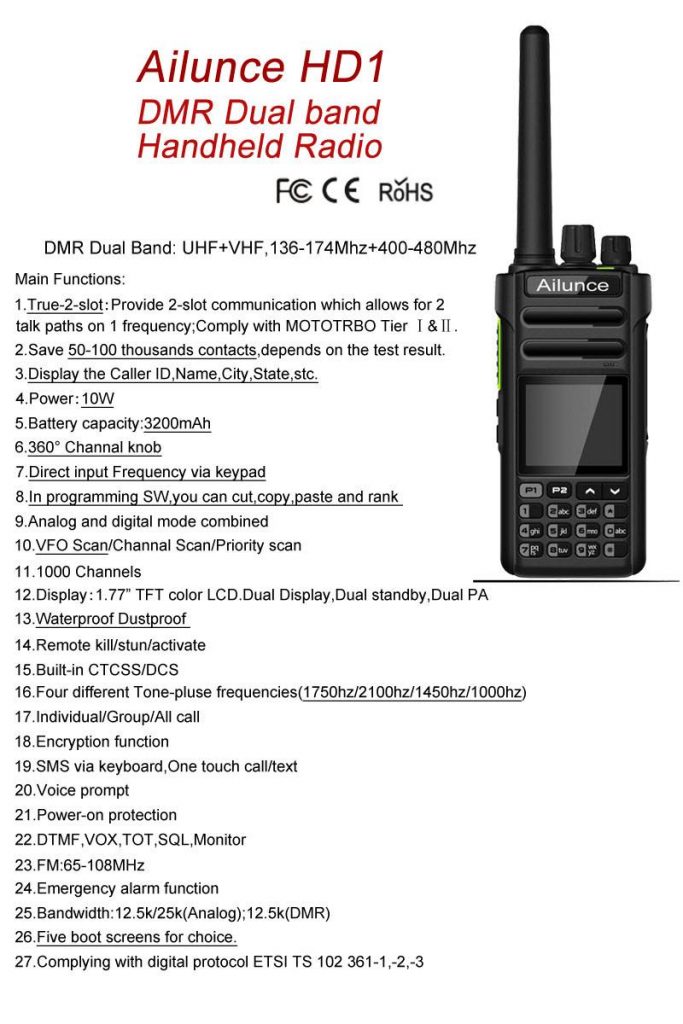 Note the underlined parts:
True 2-slot: They are making it clear that this is a true TDMA Tier-II radio supporting two time slots.
50-100 thousands contacts: These are a lot of contacts. They are most likely testing the storage chip and/or software, as a range between 50000 to 100000 is a pretty rough estimate.
Display the Caller ID, Name, City, State etc: Maybe if you have these stored in your contacts list? Not sure.
Power 10W: 10 watts of output power on a handheld is becoming a standard, if it has not become one already. Having more power is always welcome. However, it would be great if it has 3 different power settings, with the Low being 1W (or less). No info on this yet.
Battery capacity 3200mAh: If it outputs 10W, we surely need the higher capacity battery.
360º channel knob: This is always handy.
Direct input frequency via keypad: This is awesome! A DMR radio designed for ham radio should have this. It's not that convenient having to go through the menus all the time to change frequency.
In programming SW (software) you can cut, copy, paste and rank: This little detail makes a lot of difference. Now I won't have to wait for CHIRP to support the radio.
VFO scan: Hurray!
Waterproof dustproof: No rating in the spaces, I suppose IP67.
Four different tone-pulse frequencies (1750Hz, 2100Hz, 1450Hz, 1000Hz): It's there if you need it.
Five boot screens for your choice: I suppose we can add out on image? Maybe.
All in all, the radio looks promising. A true dual time-slot, dual band DMR radio
is surely something you cannot miss out on, since almost all available products on the market right now offer either VHF-only or UHF-only models. Expected release date of the Ailunce HD1 DMR Dual Band radio is March 2017.