DV4mobile Radio Preorder available.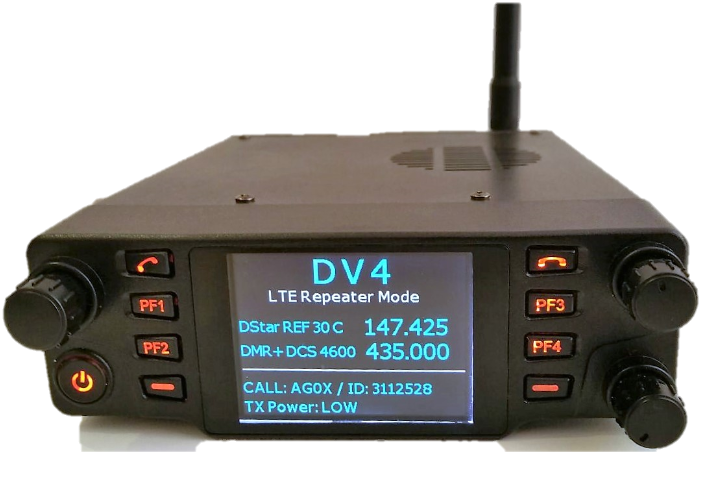 DV4mobile, the tri-band (2m, 1.25m and 70cm) mobile transceiver is available for preorder here.
The radio was on display in May 2016 at the Dayton Hamvention.
The DV4mobile is primarily a digital radio, supporting all of the most popular digital modes (DMR, DStar, C4FM, dPMR). But that's not all. It also has a LTE chip, Bluetooth and WiFi modules. It surely is a radio that can be connected… everywhere! You can replace all your digital or analog (it also does FM, of course) radios, even your DV4mini
hotspot with this single unit.
The initial release date was late 2016. Apparently this is not the case right now, with the release date being anywhere in the 1st quarter of 2017. Price is estimated to be in the range of $900-$1200. A bit steep but we will know if it's worth it after its release.
Specifications
Frequency range (USA): 144-148MHz, 222-225MHz, 420-450MHz
Output power: 2x20W simultaneously
Modes: FM, D-Star, C4FM, DMR+,,dPMR,P25*,NXDN*, DV4LTE
Microphone: DTMF, Electret with modular connector
Antenna connector: N-Type
Speaker: 3.5mm, stereo 2x4W at 8Ω
Connectors via adapter cable and 2×12 pins: 10/100MBit ethernet
, USB, HDMI
Internal display: 240×320 pixels, 262K colors
Voltage/Current: 10.5V-15V/5A
GPS: Antenna integrated into main body
Working temperature range: -40C – +85C (this is not a typo!)
Here are some videos from the 2016 Hamvention:
More info on the unit can be found here.