A new model QYT KT-8900D
has been released.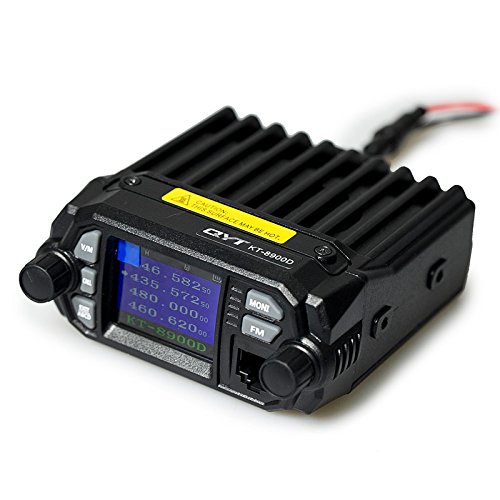 The QYT KT-8900D seems to be a successor to the KT-8900
and KT-8900R
models which have been available for some time now.
Apart from a complete re-design of the body of the radio, two features really stand out: the color display and the fact that it is a quad-watch radio. It is dual band (2m and 70cm), but it can monitor 4 frequencies.
They have also added a speaker jack, something that was surely missing on the initial model.
Here are the specifications:
Frequency Range: 136-174MHz (RX & TX), 400-480MHz (RX & TX).
RX Only: 220-260MHz.
RX Only: 350-390MHz.
Output Power: VHF 25 Watt, UHF 20 Watt.
5Tone/2Tone/DTMF/CTCSS/DCS.
Dual Band, Quad-Standby.
Dual Display.
Cooling Fan.
25W Output Power (VHF).
External speaker/PTT
Mini Size Portable.
PC Program.
Remote Stun, Remote Activate, Remote Kill.
PTT-ID Code.
Long-distance Communication.
FM Radio.
Alarm Function.
Monitor.

Channel Capacity: 200.
Channel Spacing: 25KHz/20KHz/12.5KHz.
Frequency Stability: 2.5ppm.
Operating Temperature: -20 to +60 Degrees Celsius.
Operating Voltage: 13.8V DC ±15%.
Dimension (H x W x D): 98mm(W) x 43mm(H) x 126mm(L).
Weight (Without Accessories): 448g.
Color: Black.
The radio is being sold here
.
More images (click on a thumbnail to view larger):