Amptec, a Chinese manufacturer of amplifiers, has the Amptec LA4000 4kW amplifier in their product range.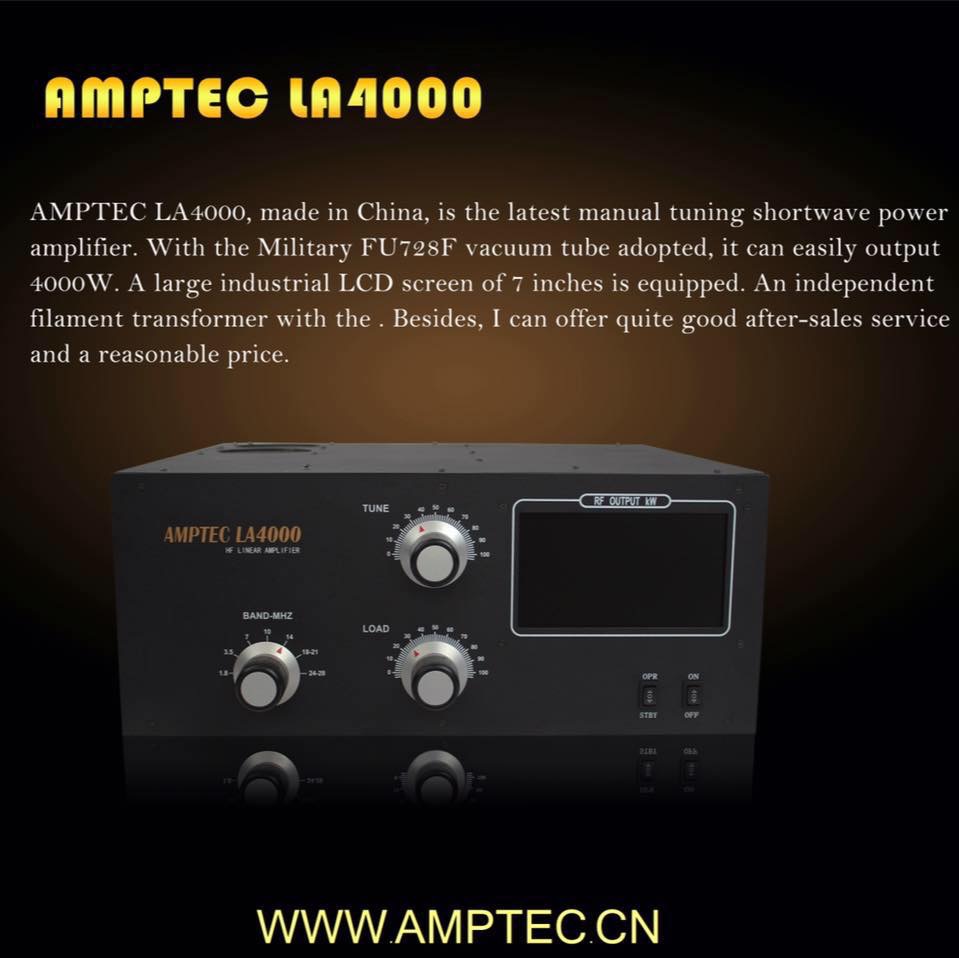 The amplifier, according to the specifications, is capable of 4kW of power, from an input power of around 60 to 90W.
It is equipped with a pair of the Chinese-made FU728F ceramic vacuum tubes. The 7-inch color display is also very nice addition.
Here are the specifications:
Frequency coverage: Amateur Bands 1.8 – 29.7 MHz including WARC
Power output: 4000W in SSB and CW, 3000W in RTTY, AM and FM
Input Power: Usually 60 to 90W for full Output Power
Input Impedance: 50 Ohm, VSWR less than 1.5 : 1
Power Gain: 17 dB
Output Impedance: 50 Ohm unbalanced
Maximum Output SWR: 2:1
SWR protection: Automatic switching to STBY, when reflected Power is 350W or higher
Intermodulation distortion: 32dB below nominal output
Suppression of harmonics: less than -50 dBc
Tubes: 2x FU728F Ceramic tetrode
Cooler: Centrifugal blower + Axial blower

Transformers: 2 pcs of toroidal transformer 3kVA
Dimensions: 480mm*200mm*450mm Width * Height * Depth
Weight: 54 kg shipping weight about 69kg
Protection circuits: – VSWR too high
– Input power too high
– Anode current too high
– Grid current too high
There is no information on the price of this beast on Amptec's website. However, they seem to have a range of other amplifier models too.
More images (click on thumbnails to view larger):
And a video of the Amptec LA4000 4kW Amplifier: