ICOM, Inc. performed an "Amateur Radio Festival" at their headquarters in Osaka, Japan, on December 10th this year. Among other things, an ICOM IC-7610 presentation took place in the premises.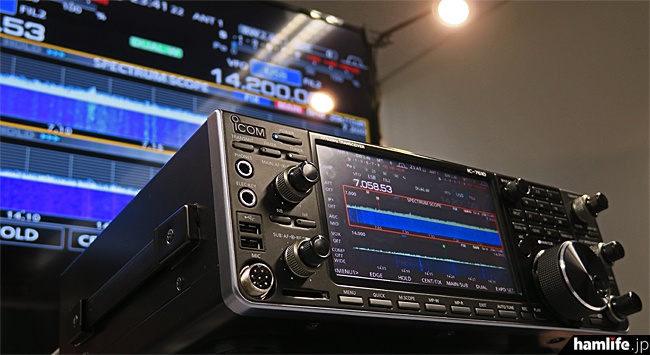 ICOM IC-7610 Presentation
The ICOM IC-7610 transceiver is practically the successor to the IC-7600 which has been in production since 2008. It features a direct sampling RF-SDR system (info: rigpix.com) and can receive on two different frequencies at the same time. Its predecessor, the IC-7600, had a double conversion superheterodyne receiving system, so the IC-7610's receiving system is the evolution in HF transceiver technology today.
Equipped with USB, two antenna connectors, SD card
slot for firmware upgrades (possibly recording too?), DVI for connecting an external display, are some of the goodies it comes with.
The HF/50MHz (no 70MHz?) transceiver is scheduled to be released in early summer of 2017.
Off with the ICOM IC-7610 presentation, let's checkout the features.
Features
Here is a list of features, from hamlife.jp, translated from Japanese to English with Google translate [my comments in brackets].
● 2 system completely independent of the receiving circuit of [most likely this refers to the two antenna connectors]
● 7-inch wide color liquid crystal display (touch panel) [touch screens are becoming a standard in ham radio gear, thankfully (or not?)]
● receiving unit direct sampling method. There is no frequency conversion, is suddenly put to the AD converter to receive signal. It has put a filter and Dejiseru to both the main side and the sub side. It is taking considerable cost here
● Main, with each of the sub-receiving circuit, turn off the proximity disturbing wave Dejiseru (DIGI-SEL: digital pre-selector) standard with. Its performance is equivalent to the IC-7851. Automatically operated in conjunction with frequency, exclusion capacity for interference is quite high. This receiving ability was remarkably improved from the IC-7300 [receiving is better than the IC-7300
? Nice!!!]
● RMDR that shows how much strong to interference from strong signal of the proximity frequency is, in design so that Semareru to 110dB of IC-7851 (at 1kHz detuning), currently about 105dB. By the way, in 2008 the launch of RMDR of IC-7600 is a 80dB about in "the time of 2kHz detuning". If you're RMDR characteristic "local station is not fogged." When weak DX station split specified, hear be sent pounding away 2 ~ 3kHz
● surpasses the transmission phase noise characteristics are also conventional machines, which take about 135dB at the time of 1kHz detuning. The transmission signal is issued directly from the DA converter (DUC: digital up-conversion method)
Jump to ICOM IC-7610 Presentation
● dual type scope is capable of displaying the main sub at the same time the status of the band can be seen
● built-in speaker is also large in size. The speaker itself is whether it is the same diameter as the IC-7300, the sound quality by the amount of a larger speaker BOX in the custom design has been improved
● USB terminal is two in front, equipped with two on the back. Connection of the mouse and keyboard can also be, it can also be used to rig control. It may supply power to the connected device. Also supports charging of the smartphone [yep, you can charge your phone]
● equipped with the external digital display terminal (DVI)
● The SD card slot equipment, firmware updates easy
● It is also possible to listen to the main and sub with a single antenna, also possible to divide the use antenna in the main and sub. Can also "diversity reception" to receive the same frequency with a different antenna. AGC control can also be separately
● adopt a BNC connector terminal with excellent characteristics such as the RX ANT IN / OUT and transverter back
● USB terminal specifications are not FIX, but the conventional machine rig control and audio input and output, which can also be in, such as a virtual COM port is of course compatible. Or under consideration can not be increased to be able to further
Image Gallery
(click on thumbnail to view larger)
Features list and images ©hamlife.jp