TYT MD-2017 Dual Band DMR First Image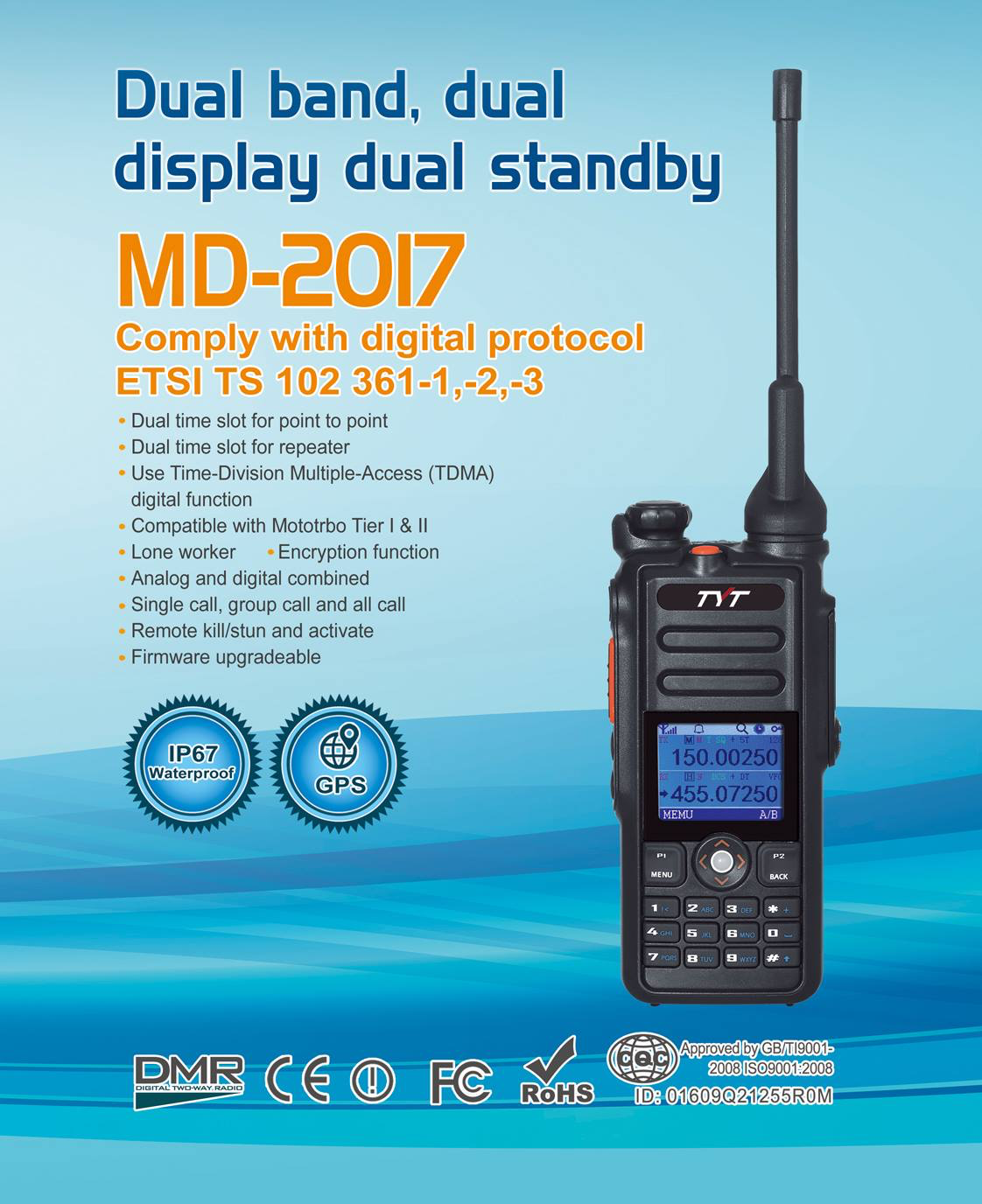 TYT just released the first ever image of the upcoming TYT MD-2017 dual band DMR handheld radio.
Back in November, a photo of a poster from PMR expo 2016 was published online, showing the MD-2017 model. At the time it was still a rumor, as no other official information was released from TYT. Just 10 minutes ago, the image you see above was published. Still not at good resolution, but it provides some information.
First and foremost, it is no longer a rumor. Second, the first 3 bullet points in the characteristics of this "leaflet", indicate that it does support true TDMA.
It is rated as IP67 waterproof (which is always a plus) and has a GPS module. Most likely, this will follow other models from TYT like the MD-380
or MD-390
, which came in non-GPS and GPS versions.
Other than that, the model looks kind of chunky in size. It has what looks like a proprietary antenna for waterproofing and a guard for the turning knob at the side. There does not seem to be a channel-selection knob, which is kind of weird. There are 4 buttons on the left side, with the PTT being in orange. On the right side is the cover of the accessory port, which is screwed on for weatherproof-ness.
The keypad has two programmable keys (P1 and P2) which are shared with Menu and Back respectively. Between them, there is a joystick-type rocker key with an extra button at the center. Below these, the number keys with "0" at the left side.
The screen is color and shows frequencies in large numbers. This is also an indication that the radio is most likely designed with ham radio usage in mind, instead of the commercially targeted designs of previous radios from the company.
Here are the specs mentioned [my comments in square brackets]:
Dual time slot for point to point [they probably mean simplex]
Dual time slot for repeater
Use Time-Division Multiple-Access (TDMA) technology
Compatible with Mototrbo Tier I and II [we've seen that before]
Lone worker
Encryption function
Analog and digital combined [I hope this means something more, eg. watching analog and digital at the same time]
Single call, group call and all call
Remote kill/stun and activate
Firmware upgradeable
Expected release date is May 2017. No info on pricing yet.